Believe-Kids' Movie Review
Life seems great for Matthew Peyton (Ryan O'Quinn). Living in a small town, he has a beautiful mansion,  a BMW, and he's inherited an automotive parts business from his grandfather. What people don't know is that Matthew's business is in debt. Unfortunately, he's responsibly for funding the town's annual Christmas pageant, but doesn't have the money. Eventually, Matthew realizes he must make some desperate business decisions by laying his employees off and cancelling the pageant. Now the townspeople are angry and his employee's want to seek revenge. Matthew's life desperately changes the day he meets Clarence (Isaac Ryan Brown), a 10 year old boy, and his destitute mother, Sharon. The mother and son share their strong faith and love for God with Matthew. Now Matthew must decide how to handle his life when difficult situations come his way.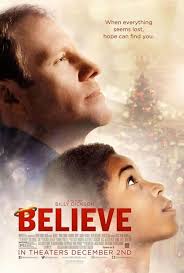 Rating: 4 out of 5 popcorn buckets
Release Date: December 2, 2016
MPAA Rating: PG
Best Age Group: 10+
Sexual Content: Mild
Violent/Disturbing Content: Moderate
Crude or Profane Language: Mild
Drug and Alcohol Content: Mild
Will Kids/ Teens Like It?  Maybe

Talking Points:
This is a Christian movie with wonderful messages of  faith, love and hope woven throughout the film. Clarence, the young boy in the movie states that, "All things are possible for those who believe." The young boy and his mother, Sharon, have such a strong faith and stresses the importance of that with others in the film. Sharon says, "Prayers not always answered in the way that you want, but they're always answered."
Sexual Content: None
Violent/Disturbing Content: Moderate
We see a character beaten in an alley. His face is covered with cuts and bruises.
A group of bad guys pour gasoline on someones car and sets it on fire.
A factory is set on fire and a character is hospitalized from inhaling too much smoke.
A woman is pushed down a flight of stairs.
Crude or Profane Language: None
Drug and Alcohol Content: Mild
Characters are shown at a bar drinking.
Will Kids/ Teens Like It?  Maybe

I interviewed kids who were at the movie with their family. They liked the movie,  but thought it was too long and got boring in parts.
Overall this is a wonderful and heartfelt film. A great family movie during the Christmas season!