"A woman is either highly trained or highly refined. One cannot be both in such times," said Elizabeth Bennet (Lily James). Set in the 19th century England, the film centers around the four Bennet sisters, all who have been highly trained to kill zombies. In the quiet English village where they live, the dead are coming back to life to terrorize the land and it's people. Elizabeth Bennet (Lily James) is the determined sister who desperately wants to destroy the zombies, however she is distracted by the arrogant Mr. Darcy (Sam Riley). Between the romances, the sword fights  and the zombies, the Bennet sisters  and their suitors come together to try and save their country.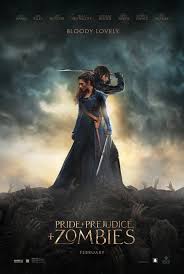 Rating: 4 out of 5 popcorn buckets
Release Date: May 31, 2016
MPAA Rating: PG13
Best Age Group: 13+
Sexual Content: Mild
Violent/Disturbing Content: Excessive
Crude or Profane Language: Mild
Drug and Alcohol Content: Mild
Will kids/ Teens Like It?  Yes
Talking Points:
This is a very unique film and interesting film. Though very violent, teens who have read Jane Austen's book, Pride and Prejudice, and those who also like zombies movies/ TV shows, will be highly entertained by this film.
Sexual Content: Mild
The women where revealing dresses, we see a lot of cleavage.
We see several couples kiss.
As the Bennet girls strap their knives in their boots, we see their lacy undergarments and bare legs.
Violent/Disturbing Content: 
We see numerous grotesque battle scenes with the undead zombies. Creatures are stabbed, slaughtered, thrown in ovens to be baked alive, and blown up.
The zombies are scary looking creatures, their faces are bloody and deformed.
Humans fight as well, we see several brutal scenes. Character's are shown hitting and kicking one other. We see several sword fights.
A man is shown choking a girl, she finally fights back and throws him into a pillar.
We see bodies of soldiers with holes in their heads, as someone stole their brains.
 After too much alcohol consumption, Mrs. Bennet bites her daughter.
Crude or Profane Language: Mild
We hear "b–tard,"  and "h–l."
Drug and Alcohol Content: Mild
Characters are shown drinking at a ball. Mrs. Bennet drinks too much and gets drunk.
Will kids/ Teens Like It? Yes
I interviewed some teenagers, ages 16 and up, who loved the film. They're fans of the TV series, The Walking Dead, and loved the zombie aspect of 19th century movie.
Overall Pride and Prejudice and Zombies is an entertaining film for those who like zombie movies. Parents need to be aware of the excess violence. Depending on the child, I recommend this for kids ages 13 and up.