Michael "Eddie" Edwards (Taron Egerton) was a nerdy and awkward British boy. He was not an athlete, something his father repeatedly told him, but he had a life long dream of being an Olympian. After trying several sports throughout his life he finally decides in his early twenty's that skiing is his sport. However, when he gets cut from the Olympic ski team, he eventually realizes that ski jumping is the only sport category he has chance in. So Eddie travels to Germany where he meets Bronson Peary (Hugh Jackman), a former ski jumper. Now Eddie has four years to train until the 1988 Olympics, and Bronson has agreed to coach him.  All odds are against him as most ski jumpers start training at age 6. Though nothing stops Eddie, he is determined to be in the 1988 Winter Olympics! Based on a true story, Eddie the Eagle is a wonderful and inspirational sports drama, one for the whole family.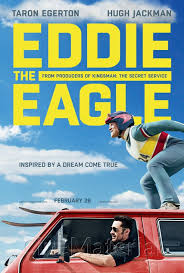 Rating: 4  out of 5 popcorn buckets
Release Date: June 14, 2016
MPAA Rating: PG13
Best Age Group: 10+
Sexual Content: Moderate
Violent/Disturbing Content: Mild
Crude or Profane Language: Mild
Drug and Alcohol Content: Moderate
Will Kids/Teens Like It? Yes
Talking Points:
The founder of the Olympics, Pierre de Coubertin, once said, "The most important thing in the Olympic Games is not winning but taking part; the essential thing in life is not conquering but fighting well." This quote is shown during the credits of the film, and this is something Eddie lived by. Eddie's whole life people told him that he would never fulfill his dream of being in the Olympics. He was not a natural born athlete, though he was determined to do something that no one thought he could do. This will spark some great parent/child conversations.
Sexual Content: Moderate
A woman flirts with Eddie, making him a sexual proposition. Though Eddie is not interested.
Bronson, Eddie's coach, compares a ski jump to having sex with Bo Derek (Eddie's favorite actress). Bronson makes sexual noises with moans and groans to make his point.
We see a group of nude men in a steam room. However, their private parts are covered with towels or other objects.
Violent/Disturbing Content: Mild
Eddie and other skiers crash during their jumps. We see Eddie's bumps, bruises and open cuts on his face.
A character punches Bronson in the face, which knocks him out.
Crude or Profane Language: Mild
Drug and Alcohol Content: Moderate
Bronson drinks alcohol from his flask throughout the film…morning, noon and night.
Bronson frequently smokes cigarettes.
An Olympic team member tricks Eddie into drinking alcohol the night before a jump. Eddie never  drinks alcoholic beverages, he loves milk. Needless to say, the next day Eddie wasn't feeling the best.
Will Kids/Teens Like It? Yes
Overall Eddie the Eagle is a wonderful inspirational sports drama. Depending on the child this is appropriate for kids ages 10 and up.