Daddy's Home 2-Kids' Movie Review
The holidays are a wonderful time of year though the family dynamics can get complicated at times.  Brad Whitaker (Will Ferrell) is happily married and he has two stepchildren. He loves his wife's kids and wants to be the best father to them. He's even made an effort to get along with Dusty Mayron (Mark Wahlberg), their biological father. In fact, things are so good between the two dads they decide to have their families spend Christmas together. Now things get interesting and the family dynamics gets even more complex. Daddy's Home 2 is the sequel to the 2015 comedy Daddy's Home.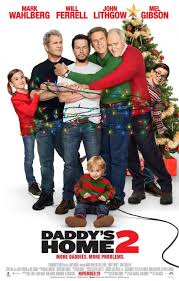 Rating: 3 and 1/2 out of 5 popcorn buckets
Release Date: November 3, 2017
MPAA Rating: PG13
Best Age Group: 13+
Sexual Content: Moderate
Violent/Disturbing Content: Mild
Crude or Profane Language: Moderate
Drug and Alcohol Content: Moderate
Will Kids Like It? Yes

Talking Points:
Sexual Content: Moderate
One of the Grandpa's is a womanizer. He has sexual encounters with several different women that he picks up at bars and restaurants, though we don't see anything. References are made that he took home two women for sex at the same time.
A young boy is teased about his crush on a girl. Later he's shown briefly kissing several different girls.
A dad gives a boy a sex talk saying "boys have a dingle, girls have a hoo-hoo."
The two Grandpa's advice a young boy on how to approach a girl he likes. One of the grandpa's has a nice approach telling him to become friends first. The other grandpa says "smack her behind."
Kids joke about French kissing.
Violent/Disturbing Content: Mild
There's a lot of silly slapstick violence. Character's fall, a chainsaw flies through the air, an elderly man is lost and is found laying face down in the snow.
One of the grandpa's is hit in the face with a tetherball at school, then kicked in the face by a child on a swing, knocking him down.
A young girl shoots a turkey with a rifle and accidentally shoots her grandpa.
Crude or Profane Language: Moderate

We hear "b–ch," "s–t," "d—," "a–."
Drug and Alcohol Content: Moderate

Two young girls sneak rum-spiked eggnog. They get drunk and one falls off a roof. It appears that there are no consequences for their drinking.
Adult characters are shown drinking alcoholic beverages.
Will Kids Like It? Yes

Overall this is a fun and entertaining film. Having said that parents need to be aware of the sexual references made throughout the film.