Frozen-Kids Movie Reviews
Princess Elsa (voice of Idina Menzel), soon to be Queen, and Princess Anna (Kristen Bell), are not only sisters, but best friends. Though things gradually change as Elsa developes secret powers. She has the ability to create snow and ice, with a simple touch or even a thought. When her powers get out of hand, their entire kingdom of Arendelle is cast into eternal winter, so Elsa goes into hiding to be alone.  Now Anna is on a mission to find her sister and save their kingdom before it is too late.  Frozen is a wonderful animated film, one the whole family will enjoy.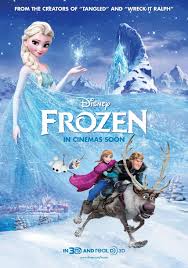 Rating: 4 1/2 buckets out of 5
Release Date: March 18, 2014
MPAA Rating: PG
Best Age Group: 5 +
Sexual Content: Mild
Violent Content: Moderate
Crude or Profane Language: None
Drugs and Alcohol: Mild
Will It Appeal to Kids? Yes

Talking Points:
What is love? That's the premise of the film. One character says that love is putting another's needs before your own. We see sacrificial love demonstrated throughout the film; with Anna sacrificing her life for her sister, the snowman sacrifices his life to help Anna, and the ice salesman, Kristoff, sacrifices his life for Anna.
There are great messages woven throughout the film, a character said that "People make bad choices if they're mad, or scared, or stressed." "True love brings out the best."
In addition to the wonderful messages, the film is fun and entertaining with great music.
The theater was filled with young kids, teenagers and adults. I interviewed people after the movie, they all loved it!!
Sexual Content: Mild
Character's are shown kissing.
Violent Content: Moderate
Characters get hit, thrown around, and even fall off a cliff.
We saw sword and icicle fights. One character was almost impaled by an icicle.
Characters were attacked by wolves.
There's a large snow monster that may frighten young kids. However he's only in a few scenes, not the whole film.
Crude or Profane Language: None
Drugs and Alcohol: Mild
Characters are shown drinking champagne at a ball.
Will It Appeal to Kids? Yes

Overall Frozen is an entertaining, heartwarming film. Depending on the child,  I recommend this movie for kids ages 5 and up. Parents need to be aware of some of the moderate violent scenes in the film.