Hercules-Kids Movie Review
Hercules (Dwayne Johnson), the son of Zeus, and his five mercenary companions are traveling in Greece on a mission for more gold. They want one more payday so they can retire and enjoy life. The gang finally get their big break when the princess from the kingdom of Thrace approaches Hercules. She asks for help to restore peace to her father's kingdom, as it's in grave danger from the wicked Rhesus. Now Hercules and his cohorts have a job to fulfill, they need to save a kingdom and restore peace to all.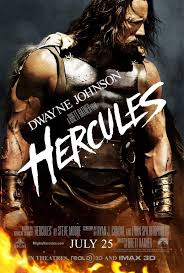 Rating: 2 and 1/2  out of 5 buckets
Release Date: November 5, 2014
MPAA Rating: PG13
Best Age Group: 12+
Sexual Content: Mild
Violent Content: Excessive
Crude or Profane Language: Moderate
Drugs and Alcohol: Mild
Will it Appeal to teens? No

Talking Points:
Hercules is a good guy. Though strong and powerful, he doesn't want all the attention and glory. He says, "I only want to be a husband and father."
Dwayne Johnson has been in a lot of kids movies,  he even won "Favorite Male Buttkicker Award at the 2013 Nickelodeon Kid's Choice Awards." Since the film stars Johnson, kids may find it appealing, however Hercules is very violent and deals with the mature subject of loved ones dying. Something parents should be aware of before sending their kids to this movie.
Sexual Content: Mild
In a flashback, we see Hercules' mother wearing a transparent dress; the audience sees her breasts.
Hercules' wife is shown naked with her clothes on the floor. We see her back side.
Violent Content: Excessive
There are numerous deaths, characters killed  by arrows, spears, swords, falling statues and other strange weapons.
We see bloody corpses covering battle fields.
A character rubs his finger around a corpses lips, then licks the blood off his finger.
Hercules kills several characters with his powerful club.
We see Hercules kill a large boar, a lion and a multi-headed hydra.
There are brutal flashbacks of Hercules' wife and kids being killed, they're shown covered in blood.
Crude or Profane Language: Moderate
The f-word is said once, we also hear "sh-t," "b–tard," and "h–l."
Drugs and Alcohol: Mild
Characters are shown drinking in a tavern.
Someone drinks wine, that supposedly is spiked with a drug.
Will it Appeal to teens? No
Overall this is an action packed, violent film. Having said that, it may not interest  kids as the storyline is slow and boring. Parents need to be aware of the excessive violence throughout the film.