Kong: Skull Island-Kids' Movie Review
They knew it would be more than a three hour tour, but it was way more than they expected. Kong: Skull Island follows a group of scientists who are on a mission to investigate a mysterious island in the Pacific. The jungle is beautiful and lush, however when the scientists arrive they hear rumbling noises… and it's not Gilligan.  It happens to be an enormous ape who's trying to protect his habitat. Now the scientists must find a way to escape an island filled with dangerous creatures. Set in the 1970's, this gorilla film is entertaining though violent.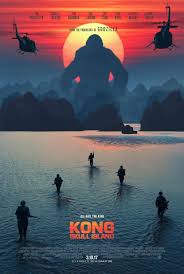 Rating: 3.5 out of 5 popcorn buckets
Release Date: March 10, 2017
MPAA Rating: PG13
Best Age Group: 10+
Sexual Content: Mild
Violent/Disturbing Content: Excessive
Crude or Profane Language: Moderate
Drug and Alcohol Content: Mild
Will Kids Like It? Yes
Talking Points:
There is an all-star cast. To name a few: Samuel L. Jackson, Brie Larson, John C. Reilly and John Goodman.
Among all the violence and drama, there are some comedic parts especially with John C. Reilly. He adds some light humor.
Sexual Content: Mild
We see women in revealing outfits dancing provocatively at a Saigon bar.
Violent/Disturbing Content: Excessive
Kong destroys a some helicopters, tearing the aircraft and occupants apart.
Men are stepped on by Kong's large feet, thrown around and tossed into Kong's mouth.
A gigantic, lizard-like creature eats soldiers and civilians.
An enormous spider pushes its huge leg into a man's mouth and down through his body.
Kong and the island's other monstrous inhabitants also fight one another in a huge battle.
Kong and a large octopus battle one another.
Soldiers use high caliber weapons and toxic gas to battle Kong.
 We see victims dismembered, stomped on, eaten, and tossed around.
Crude or Profane Language: Moderate
We hear the f-word once. We also hear "d–n," "sh-t," "h—," "b–ch," b–tard," and "a–," throughout the film.
Drug and Alcohol Content: Mild

We see characters smoking pipes, drinking shots of alcohol and beer.
Will Kids Like It? Yes
I interviewed some pre-teen and teenage boys who loved the film.
Overall this is an intense, action packed movie. Parents need to be aware of the excessive violence throughout the film.