Monster Trucks-Kids Movie Review
Life can sometimes be dull in a small town, especially for high school senior Tripp (Lucas Till). Tripp is sick of high school and the obnoxious kids in school. He's tired of Sheriff Rick, the know-it-all cop who happens to be dating his mom. Luckily, Tripp has a hobby and passion for trucks which keeps him occupied and out of trouble. He builds a Monster Truck from bits and pieces of scrapped cars. The only problem is he still needs an engine, so he can't get very far in his truck. Tripp's life dramatically changes the day an oil company accidentally releases three sea creatures, and one of them ends up under the hood of Tripp's truck. Tripp discovers this creature who not only acts as the engine to his truck, but eventually becomes a loving friend.  Monster Truck is an entertaining film for families with elementary school age kids.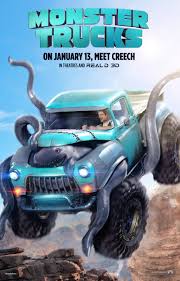 Rating: 4 and 1/2 out of 5 popcorn buckets
Release Date: April 11, 2017
MPAA Rating: PG
Best Age Group: 7+
Sexual Content: Mild
Violent/Disturbing Content: Moderate
Crude or Profane Language: None
Drug and Alcohol Content: Mild
Will Kids Like It? Yes
Talking Points:
Sexual Content: Mild
Flirting between two characters.
Violent Content: Moderate

A character poisons an entire ecosystem which kills hundreds of people.
We see numerous car chases and vehicles being demolished.
There's some gun violence which includes kids being shot at.
Tripp's truck drives over a lot of vehicles crushing them all.
Crude and Profane Language: None
Drug and Alcohol Content: Mild
A character drinks a glass of alcohol.
Overall this is a fun and suspenseful film, great for elementary school kids. Parents need to be aware of the moderate violent content.