The Space Between Us-Kids' Movie Review
Sara Elliot ( Janet Montgomery) is an adventurous woman. She travels with a group of scientists to Mars for a  four-year colonizing mission. She is a single woman who is very excited about the opportunity to travel through space. However, Sara discovers that she's pregnant on her space journey and delivers a beautiful baby boy on Mars. Sadly, Sara dies during childbirth while her son, Gardner (Asa Butterfield), is raised by a group of astronauts and scientists. When Gardner travels to Earth for the first time as a 16 year-old boy he embarks on many adventures as he tries to find his dad. He also meets Tulsa (Britt Robertson), an adorable teenage girl who becomes his true love. The Space Between Us is a romantic sci-film targeted to pre-teens and teens.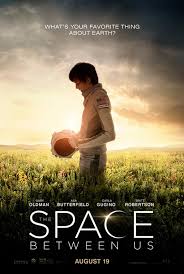 Rating: 4 out of 5 popcorn buckets
Release Date: February 3, 2017
MPAA Rating: PG13
Best Age Group: 11+
Sexual Content: Mild
Violent/Disturbing Content: Moderate
Crude or Profane Language: Mild
Drug and Alcohol Content: Moderate
Will Kids/ Teens Like It? Yes
Talking Points:
Sexual Content: Mild

We see a teenage couple kiss. They're shown in a sleeping bag together with their bare shoulders sticking out of it.
Violent/Disturbing Content: Moderate

A mother dies during childbirth.
Gardner has surgery; his arm is cut open and a metal tube is inserted.
Gardner drives a cart recklessly on Mars. He crashes it and disconnects his oxygen tube and almost dies.
On Earth we see a teen couple stealing cars and driving recklessly.
Gardner has an enlarged heart when he is on Earth. We see him in painful moments. He has nosebleeds, passes out several times, and almost dies.
We see a character try to commit suicide, but is rescued.
A plane crashes and causes a huge explosion, but there are no deaths.
Crude or Profane Language: Mild

We hear "d–n," "a–," and someone says, "stop being a d–k."
Drug and Alcohol Content: Moderate

An adult character is an alcoholic and is shown passed out most of the time.
Will Most Kids/ Teens Like It? 
This will most likely appeal to pre-teens interested in a love story rather than a sci-fi movie.
Overall this is a teen romantic drama. Parents need to be aware of the moderate violence and alcoholic content