Wonder Woman-Kids' Movie Review
Diana (Gal Gadot) is not your average young girl. Her mother, the Amazon Queen, created Diana from a hunk of clay. They live on an island populated entirely by women and, since there are no kids on the island, Diana has no playmates. She studies hard, speaks over 150 languages, and on her spare time Diana sneaks off with her aunt who gives her some hard core warrior training. Diana grows into a smart, strong and beautiful woman. Her life dramatically changes the day she rescues Steve Trevor (Chris Pine), an American pilot who crashes his plane in the water. Diana is shocked as she's never seen a man before. Steve tells her about the horrors of World War I that's going on outside of her sheltered paradise. Diana is convinced that she can stop the war, and she ultimately discovers her true powers as Wonder Woman! Wonder Woman is based on DC  Comics character of the same name.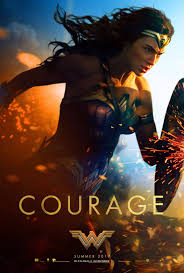 Rating: 3 and 1/2 out of 5 popcorn buckets
Release Date: June 2, 2017
MPAA Rating: PG13
Best Age Group: 10+
Sexual Content: Moderate
Violent/Disturbing Content: Excessive
Crude or Profane Language: Mild
Drug and Alcohol Content: Mild
Will Kids Like It? Yes
Talking Points:
Sexual Content: Moderate
There is a sexual attraction between Steve and Diana (Wonder Woman). We see them briefly kiss, and it's implied that they've slept together.
In one scene we see Chris Pine naked, though he covers his privates with his hands.
Violent/Disturbing Content: Excessive
There's a lot of violence throughout the film. There are bad guys and numerous battles. There are sword fights (someone is impaled by a sword), characters punch and kick each other.
The movie takes place during WWI, so there's a lot of combat fighting. We see injured soldiers with missing limbs. Numerous characters die from the war, explosions and bullets.
Crude or Profane Language: Mild
We hear "h—" a few times in the film.
Drug and Alcohol Content: Mild
We see characters drinking beer and other alcoholic beverages.
Will Kids Like It? Yes
Overall this is an entertaining, action pact film. Parents need to be aware of the excessive violence.